LRR and LRE Series
LightningRod™ Continuous Rod
Lightning Rod and Pipe company completely engineers continuous sucker rod string that has only two connections – top and bottom.
LightningRod continuous rod dramatically reduces your risk of rod failures by eliminating the most common area of failure, the sucker rod coupling.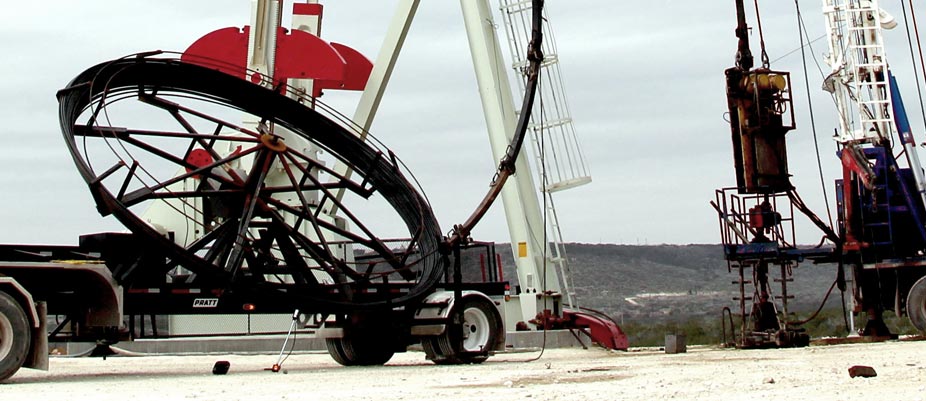 Rod and Tubing Failures
Most sucker rod strings failures are related to the couplings. The failures are caused by improper handling, improper makeup of the connections, and the unavoidable loading of the coupling against the tubing wall. Even when strict procedures are followed to avoid damage during handling and reduce over/under torquing of the couplings, the coupling area is still susceptible to failure. Deviated wells cause horizontal loading of the rods against the inside of the tubing wall and create frictional wear between the rod and the tubing. The frictional wear is amplified by the shape of the couplings because their diameter is much larger that the diameter of the rod. Traditionally, the entire side load of the well is rested on the small coupling area, but continuous rod allows this force to be distributed across the entire string.
Increasing the Mean Time Between Failures (MTFB)
LightningRod™ continuous rod eliminates all the couplings along the entire wellbore except for the top connection to the polished rod and the bottom connection the pump itself. By eliminating the couplings along the wellbore, the pressure points between the rods and the tubing are minimized by spreading the pressure along a longer contact area of the rod and tubing. The result is longer run lives of both the rods and the tubing which inherently increased the MTBF.
Choosing the right material for your well
Every well is different. That is why Lightning Rod and Pipe provides three different types of material for its continuous rod. Each type of material goes through the same rigorous quality control procedures, so you can be sure you are getting the highest quality rods for each of your wells regardless of its characteristics. The H series is used when for higher tensile or torque strength is required and is available in the 41 and 43 series.
The LightningRod D15 continuous rod provides a strong consistent rod for wells that are minimally corrosive. This rod does not contain significant alloying elements for corrosion protection and is predominantly in shallow heavy-oil wells.
The D41M and H41M rods contain significant amounts of Chromium and Molybdenum which work together to resist the corrosive effects of H₂S and CO₂. This metal blend works best in mildly corrosive wells that are chemically treated.
For wells with higher levels of corrosives, the LightningRod D43N and H43N provide the highest level of protection by using a combination of Chromium, Molybdenum, and Nickel. The Nickel adds toughness, which increases the metal's resistance to corrosion. Especially in areas where CO₂ and H2S are the primary sources of corrosion and where chemical inhibitors are used.
Specifications
Torque Carrying Capabilities (ft.lbs.)
Tensile
Yield
3/4"
7/8"
1"
1 1/8"
D Grade
120 ksi min
85(D)/90 ksi min
N/A
650(D)/690
975(D)/1030
1390(D)/1470
High Strength
140 ksi min
115 ksi min
N/A
890
1330
1890
Weight per foot
1.49
2.04
2.67
3.38
Physical Properties - Quenched & Tempered
LRP Type
D15C
D41M
D43N
H41M
H43N
Grade
1536
4119
4318
4119
4318
Tensile, ksi min.
120
120
125
140
145
Yield, ksi min.
95
95
100
115
120
Hardness, Rc
22 min
22 min
22 min
28 min
28 min
Rod Size
Maximum Service Torque (ft lbs)
3/4"
500
525
535
670
670
7/8"
680
735
750
900
900
1"
1015
1100
1110
1350
1350
1 1/8"
1445
1535
1550
1900
1900
LightningRod D15C
Has no significant quantities of alloying elements
Used in non-corrosive wells
Used predominently in shallow heavy oil wells
LightningRod D41M / H41M
Chromium – Molybdenum alloyed steel
Up to 2% Chromium & 0.2% Molybdenum
Used in mildly corrosive wells which are chemically inhibited and where C0₂ and H₂S are the primary source of corrosion
Benefits of Chromium and molybdenum
H41M used in wells where high strength / more torque is needed
LightningRod D43N / H43N
Nickel – Chromium – Molybdenum alloyed steel
Up to 1.25% Nickel, 0.8% Chromium & 0.25% Molybdenum
Used in corrosive wells which are chemically inhibited and where C0₂ and/or H₂S are the primary source of corrosion
Nickel adds to the ductility of the rods
H43N is used where a higher strength rod is required but is more prone to sulphide cracking
Applications
Reciprocating and PC Pumping Wells.
Light oil, heavy oil, steam flood and dewatering.
Vertical, deviated, horizontal and slant wells.
Available in the following configurations:

D15C - Carbon Steel, D grade.
D41M / H41M - CrMo alloy, D grade/high strength.
D43N / H43N - CrMoNi alloy, D grade/high strength.

Alloys provide improved corrosion resistance.
High strength meets higher load requirements and improved abrasion resistance.
LightningRod™ Continuous Rod Advantages
Reduces frictional losses along deviated wells.
Widely distributed side loading results in reduced rod and tubing wear.
Quench and temper heat treatment delivers improved finished microstructure that increases resistance to bending and flexing.
Removal of connections eliminates coupling and pin end failures.
Reduces the piston effect and flow restriction from couplings along the production tubing.
Increases rod-fall speed with less piston effect.