About Lightning Production Services
Taming Deviated Wells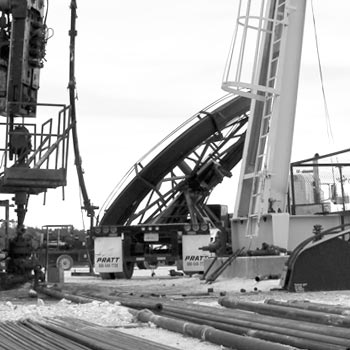 Work with you
Our clients tend to be production, professionals responsible for well performance, reflecting that the work we do addresses priority issues such as deviated wells, production optimization, completion efficiency, and well profitability. We work closely with Production Engineers, Field Supervisors, and Asset Managers in large and small organizations that are operating rod pumped, plunger lift, and PCP artificial lifted wells, as well as salt water disposal wells. At the same time, we are comfortable working collaboratively with the analytic teams of our clients.
We are trusted advisors to these clients. We work with them to mitigate the detrimental effects that deviated wells have on rod and tubing wear, with a focus on what is possible without risking significant capital, or time and without adding any safety issues. Our mission is to contribute to the effectiveness and ROI of our client's wells with the goal of doubling the mean time between failures (MTBF). We recognize that the only way to do this is to work together to assemble the best available well data to find actionable insights that will drive the design of either continuous rod, lined tubing, or both. By working together, we can reach the goal of achieving demonstrable improvements in good performance.
Experience
Our management team consists of artificial lift pioneers who combine vision, experience, and science to develop solutions that boost returns on rod pumped well's investment. The team is made up of senior business leaders have long sought to lessen the impact of deviated wells on well performance both from an individual rod and tubing design to the broader production results. Lightning Production Services Corporation (LRP) was founded to address these goals and gathered experienced individuals who focus on understanding how multiple well points impact the performance of each well individually.
Innovation
Many individuals and groups have created rod and tubing designs to extend the life of the equipment in the well. However, the approaches used were many times ineffective or expensive – typically extending rod and tubing life but with additional costs that negated the cost savings of the newly designed equipment. They also failed to meaningfully consider the impact of additional human safety risks. Lightning Production Services's products use proven technology coupled with advanced methodologies to overcome well irregularities without excessive costs or additional safety issues. These products have been proven to significantly extend the MTBF so that the well can run optimally for longer periods without adversely affecting the operational costs of the well.
More than just products
Today's industry demands well performance in terms of profitability and to assure you are not being outpaced by your competition. The challenge is that traditional rod and tubing systems inadequately exploit the new materials and manufacturing techniques that can be used with deviated wells – new technology that continuously progresses toward longer run life. And, traditional analytics typically only focuses on only traditional rods and tubing in isolation – rather than considering how different materials and designs can impact the performance of the well and how each technology can provide synergistic benefits in an individual well.
Our Lightning Production Services engineering service provides advanced analytics were designed specifically to address multiple data issues. Rather than just providing a software program, we use several analytical tools to evaluate downhole and surface data to measure the impact across the entire well. With this combination of human intervention with software analytical tools, LRP service uniquely provides rod and tubing designs for improving the mean time between failures of rod pumped wells.